Russian Proofreading & Editing
What is proofreading? It is reviewing a piece of writing to make sure your text is free of any mistakes. Indeed, all spelling, grammatical, vocabulary and punctuation errors must be removed. Furthermore, the text must have a uniform formatting and a correct layout.
In comparison, editing is all about making sure the meaning and ideas in a piece of work are conveyed in the best possible way. It is the process of modifying a piece of writing performed with an intention of improving its overall quality by enhancing readability, flow, structure and ease of understanding. In other words, editors correct issues at the core of writing like sentence construction and language clarity.
We provide expert Russian proofreading and editing services online. When looking for a professional, it is vital to choose a linguist whose mother tongue is Russian. Our editors are all native Russian speakers, indeed. On top of that, we all have University degrees. Thus, grammar and spelling check of your Russian document as well as style editing will be performed by our qualified linguists. So, you can be sure your text reads well and sounds natural! Moreover, we offer highest quality services for the best price!
Our team provides the following Russian proofreading services:
As for the file format, we edit most written documents in most formats, including Microsoft Word, Excel, PowerPoint, Portable Document Files (.pdf), and Rich Text Files (.rtf).
Since you order Russian translation services from us, the final text will be carefully proofread. Also we edit translations which were made by another source, but require formatting and proofreading.
If you need someone to create a piece of writing for you please consider our Russian writing services.
How to book Russian proofreading and/or editing services
We usually work according to the following scheme:
Get a free quote
Get the screenshot of the document
Get your file by email
1. Firstly, you submit a request for Russian proofreading or editing project. We handle orders 7am-7pm GMT, so we will get back to you within our working hours. It is very important for us to look at the entire document, so that we could give you our precise price. So please do attach your document.
2. After it is carefully studied we give you a quote.
3. Once we have discussed all the details, we issue an invoice for a deposit. When a partial payment (50% of the total project price) is made, we start working on your project.
4. Professional Russian editor works on your document. She makes grammar and spelling check of your Russian text. If necessary, she edits the content style, layout and the formatting of the document.
5. Finally, we inform you that the document is complete and send you the screenshot. As soon as we receive the second part of the payment we send you the file by e-mail.
NOTE: All cancelled projects are subject to a cancellation fee equal to 20% of total project price.
Proofreading rates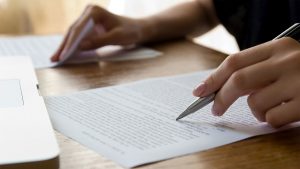 *One standard page ≤ 250 words
So, to get started with our Russian Proofreading Services, send in your files using our order form online.
Bilingual translation editing (English ↔ Russian)

In fact, bilingual translation editing, also called translation revision or review is a separate service. For instance, you may need it when you have a translation made by someone else and want a third party to make sure it is 100% correct. As a side note, when you buy English to Russian or Russian to English translation from us, it already includes bilingual editing. Importantly, our professional translators are trained in both pair languages. Learn more about Russian translation services here.
Because editing requires taking full responsibility for the translation, we check translations for all kinds of errors:
First and foremost, we compare the translation against the original to make sure it is free from mistranslations, omissions, and inaccuracies.
We also check consistency of terminology and longer phrases.
At the same time Russian editor corrects any spelling, punctuation, and grammar mistakes. Finally, you receive a well-written text which is free of any inaccuracies.
Editing rates
Currency
Russian editing
Bilingual editing
per page*
per page*
£
5
8
€
6
9
$
7
10

*One standard page ≤ 250 words
To get started with our Russian proofreading and editing services, send in your files using our order form online.