Russian Proofreading Services
What is proofreading? It is reviewing a piece of writing to make sure your text is free of any mistakes. Indeed, all spelling, grammatical, vocabulary and punctuation errors must be removed.
Furthermore, the text must have a uniform formatting and a correct layout. We provide proofreading services online. When it comes to Russian proofreading, it is important to choose a professional to whom the Russian language would be native. As a matter of fact, we offer professional proofreading services fulfilled by a native Russian linguist.
Since you order Russian translation services from us, the final text will be carefully proofread. Also we edit translations which were made by another source, but require formatting and proofreading.
As for the file format, we edit most written documents in most formats, including Microsoft Word, Excel, PowerPoint, Portable Document Files (.pdf), and Rich Text Files (.rtf).
Please submit your request 24/7 via our online form. We handle orders 7am-7pm GMT, so we will get back to you within our working hours. It is very important for us to look at the entire document, so that we could give you our precise price. So please do attach your document.
Our team provides the following proofreading services:
We also offer Russian writing and editing services.
Proofreading rates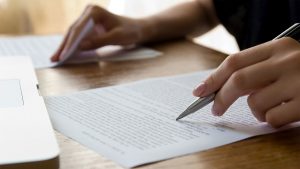 *One standard page ≤ 250 words
So, to get started with our Russian Proofreading Services, send in your files using our order form online.